AppleXsoft Photo Recovery for Windows
The easiest way to recover photo and data from ALL types of digital media!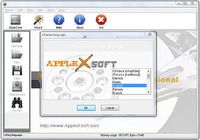 Avis de la rédaction

AppleXsoft Photo Recovery for Windows is the standard in digital media data recovery that designed for recover photo and data from ALL types of digital media!
Accidently Formatted your digital cameras memory card? Deleted those important
photos? We have the solution! AppleXsoft Photo Recovery is the standard in
digital media data recovery that designed for recover photo and data from ALL
types of digital media! It is a user-friendly and full featured application for Digital
Cameras, Memory Stick, SmartMedia, SD cards, XD cards, Sim cards, MMC, Pen
drives, USB flash drives, CompactFlash I and II, Micro Drives, floppy disk, Zip disk,
CD, DVD disk and most other storage media. AppleXsoft Photo Recovery can
effectively recover and rescue deleted or lost data from formatted, damaged,
unreadable or defective disks. It works with Windows 2000 or Higher and works
with most USB, FireWire or other Digital Media readers. Compared with other
similar software, AppleXsoft Photo Recovery has many advantages such as the
following: It features a world-wide first recovery algorithm for audio and video
recovery; Reads corrupted cards (even if they're not recogni by Windows);
recovers photo, documents, video, music or just about anything that can be
written to media device; allows you to create a backup image of your media card
for archiving; Support recover data from Palm Pilots, PDA devices, Digital
Cameras and Camcorders, MP3 players, Digital Recorders and other devices;
Secure media wiping and is included for permanent deletion of data on your
Media; It is safe and risk-free. The software performs READ-ONLY operations on
your digital media; Ability to preview photo before recovery; Offers 20 different
interface languages.
Version
3.0
Type de licence
Shareware à télécharger
Langue
Multi
Editeur
AppleXsoft
OS
Windows
Téléchargement Total
29
Lien du site
http://www.applexsoft.com
Laisser un commentaire pour la software AppleXsoft Photo Recovery for Windows
Merci de rester correct et de respecter les différents intervenants.

Pas de commentaires
Soyez le premier à déposer un commentaire
Articles Gestion de données
Votre autoradio est capable de lire des fichiers MP3 sur une carte SD mais bizarrement lorsque vous transférez des chansons depuis votre Mac, des doublons sont créés et vous vous retrouvez au final avec des fichiers lisibles et leurs versions illisibles qui interrompent constamment votre...

Parallels Desktop pour Mac apporte une nouvelle amélioration grâce à sa récente mise à jour. Cette nouvelle amélioration permet au logiciel de virtualisation d'être totalement compatible avec le nouvel OS X 10.9 (Mavericks). Parellels Desktop est un programme qui permet à ses...

L'éditeur Parallels vient de dévoiler la dernière version de son logiciel Parallels Desktop 8 pour Mac. Riche en nouveautés, cette application de virtualisation permet d'exécuter Windows ou un autre système d'exploitation simultanément à OS X. Après quelques semaines...
Logiciels Gestion de données
Travaillez simultanément sous Mac et Windows grâce à Parallels Desktop 13 pour Mac. Ce logiciel vous donne la possibilité d'utiliser les fonctions de macOS dans les programmes Windows et de transférer d'un simple glisser-déposer vos documents et autres fichiers PC vers votre Mac. Grâce...

Your newly set-up computer shows all files with wrong file dates 'Created'? All the images you just copied from your camera / smartphone to your computer show now the wrong file date 'Created' and not the original date taken? File Date Corrector is a program for Windows and enables to correct the...

AnyTrans - le meilleur gestionnaire de fichier iOS, offre une nouvelle fonctionnalité gratuite pour transférer les données android à iphone en quelques clics, sans perdre de données. AnyTrans permet de transférer tous les fichiers et...