Icecream Media Converter 1.56
Convertissez gratuitement les fichiers audios et vidéos, téléchargez les vidéos sur Youtube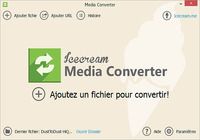 Avis de la rédaction

Publicité
Convertisseur puissant : fichiers audios, vidéos tous formats (mkv, avi, mp3, mp4 etc.), convertit des fichers médias par URL directe.
IceCream Media Converter deals with all types of audio and video files and offers high quality conversion. In spite of the visual simplicity, the program features some advanced options that give the users better opportunities for different types of conversion. IceCream Media Converter's intuitive interface, attractive design and high efficiency give an outstanding user experience. Batch conversion support makes the program even easier to use – you can just queue the files, set the desired configurations, and convert files in bulk. The program allows you to convert files by format or device. If you know which exact format you need to convert to (MP4, MP3, MKV, MOV, FLAC, WAV, M4A, M4V, AAC, SWF, AVI, FLV, WMA, OGG, VOB, WMV, etc.), you can simply select it from the list. Alternatively, you can convert files by device (Phone, iPod, iPad, Xbox, Android, BlackBerry, PSP, PS3, Samsung, Nokia smartphones, etc.) by specifying it in a corresponding section. In this case, the application will automatically set the recommended characteristics for this particular device. Using IceCream Media Converter, you can play with the quality and adjust it prior to converting a file. The choice depends on your needs: if you are looking for an original quality, set the "Best" one; in case you need to compress a file, choose lower quality options. With all these features and characteristics, IceCream Media Converter turns out to be a powerful yet simple application for successful and quick conversion. Perfect balance between simplicity and versatility makes this tool a great solution for your conversion needs.
Version
1.37
Type de licence
Freeware à télécharger
Langue
Logiciel français à télécharger gratuitement
Editeur
IceCream Apps
OS
Windows
Téléchargement Total
121
Lien du site
http://icecreamapps.com/fr/
Laisser un commentaire pour la software Icecream Media Converter 1.56
Merci de rester correct et de respecter les différents intervenants.

Pas de commentaires
Soyez le premier à déposer un commentaire
Articles Conversion
Trouver le bon logiciel de conversion vidéo n'est clairement pas chose aisée. La toile regorge de convertisseurs vidéo et audio, si bien qu'il devient compliqué de trouver le meilleur ou simplement celui qui répond à vos besoins. La solution que nous vous présentons dans notre article se...
Logiciels Conversion
EaseUS Video Editor est un logiciel de montage vidéo pour PC qui prend en charge tous les principaux formats vidéo. Vous pouvez importer tous les fichiers multimédias du disque PC ou des vidéos prises par des caméscopes, des caméras DV, des vidicons, des webcams, des téléphones portables,...

La plupart des autres convertisseurs FLAC en ligne demandent aux utilisateurs de télécharger leurs chansons FLAC sur le serveur, puis de commencer la conversion en fichiers MP3 sur le serveur avant de pouvoir télécharger des chansons converties. Cela vous fera perdre beaucoup de temps à...

Ashampoo Music Studio est un programme permettant de modifier et de gérer facilement ses fichiers audio. Moderne il intègre une palette d'outils pour la gravure, l'extraction et la conversion de fichiers. A noter que de nombreux formats sont pris en charge, y compris le MP3. Le développeur...